SlashNext

Complete

™
Integrated cloud security platform for email, mobile, and web to stop threats and exploits in Microsoft 365, Zoom, Teams, Slack and other messaging channels.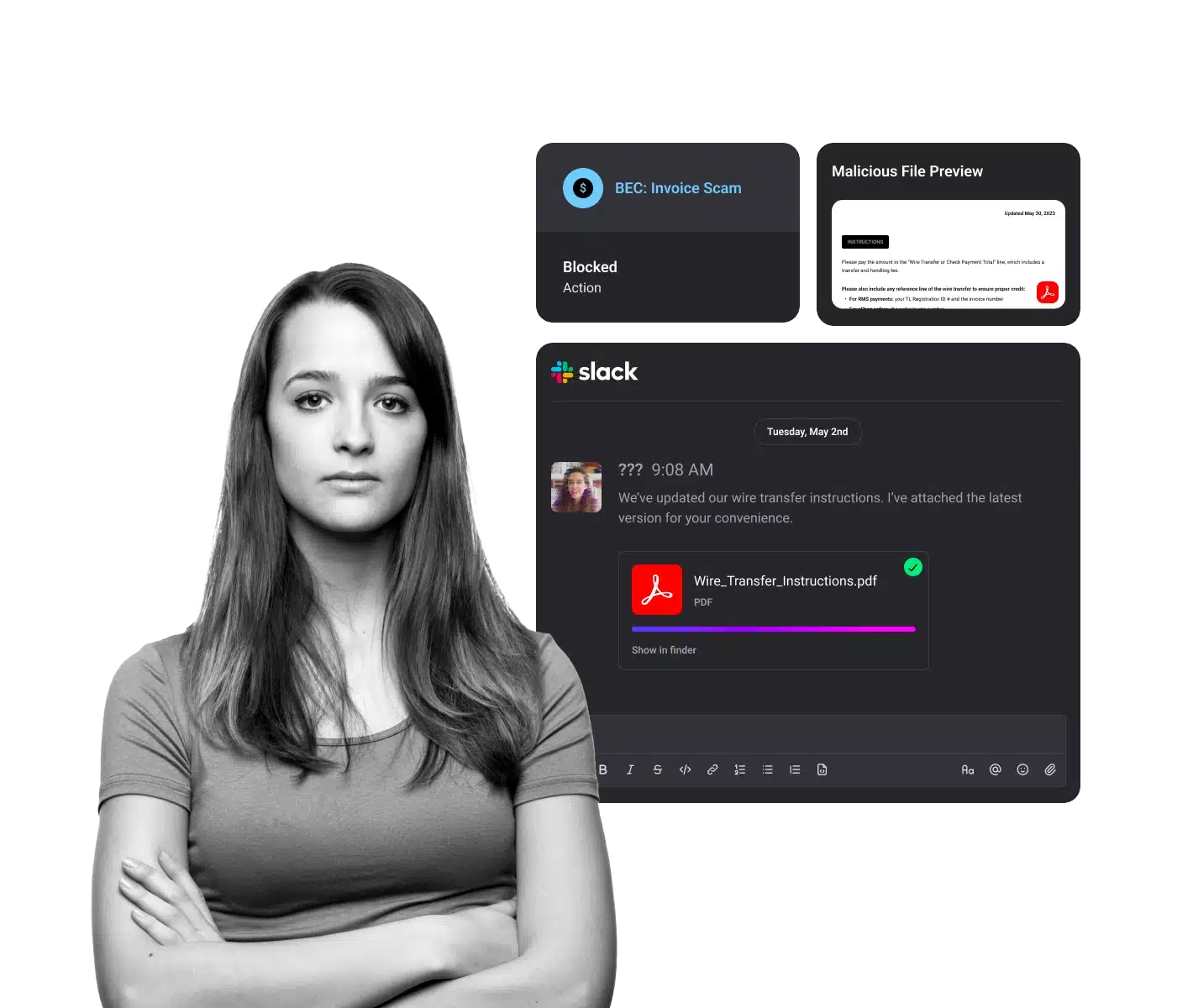 BEC and SMS Attacks are the Top Threats Impacting Business Today
83% of organizations report mobile threats are growing more quickly than other device threats and lead to successful breaches. 
With automation and AI technology, BEC and spear phishing can easily adapt until successful.
The average global cost of a data breach is $4 million with losses exceeding $10.3 billion annually.
A Complete Cloud Security Platform to Stop the Most Evasive Threats in Real-Time
Keep users safe with  SlashNext Human AI Detection and LiveScan™ across email, mobile and web. A more effective approach that uses computer vision, natural language processing and contextual  analysis to stop zero-hour threats in real time with 99.9% accuracy and 1 in 1 million false positives. The approach sees through more evasion tactics to detect previously unknown threats including, malicious links, natural language-based threats, exploits and malware. 
SlashNext Cloud Email, Mobile, and Web Messaging Security ​
Powerful HumanAI
™
delivers powerful protection that stops credential stealing, BEC, spear-phishing, legitimate link compromise, social engineering scams, ransomware and malware in real-time with fast 99.9% detection rates and one in 1 million false positive rate for confidence in remediation.
Set-up to detection in 5 minutes using Microsoft Graph API and a phenomenal ROI with twice the protection at half the cost of secure email gateway (SEG) solutions.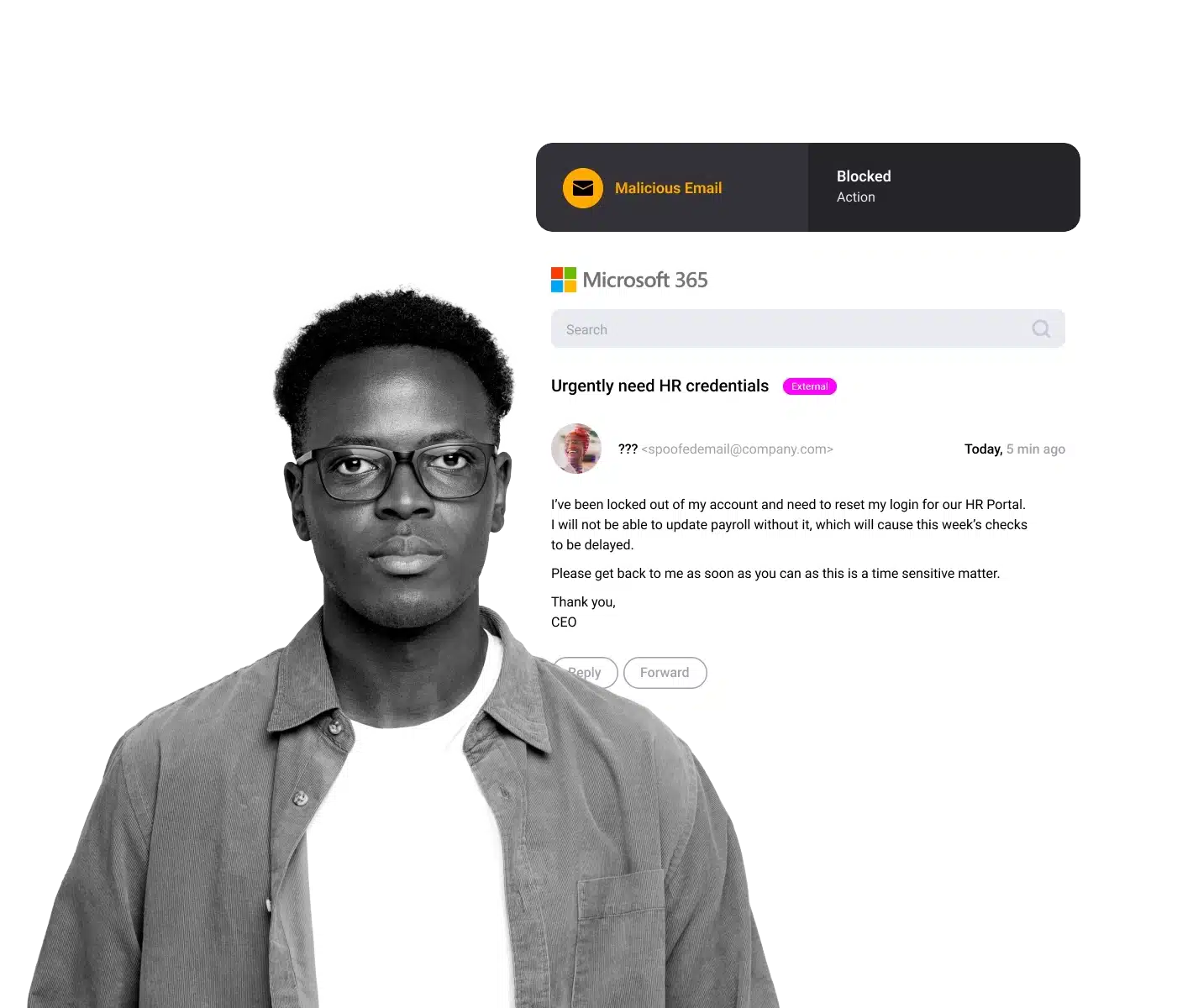 SlashNext Delivers Best in Class Results on Day One
To set-up and configure service using the Microsoft Graph API
Detection rate with 1 in 1 million false positives
Blocks two times more than competing supplemental solutions
Incident caught within 1 hr. for incredibly quick time to value
Patient-zero email attacks detected by SEER™ Live Scan
Detection advantage vs other threat engines
Microsoft 365 + Integrated Cloud Email Security
Due to the demands of the modern workforce, there has been an exponential shift in the use of native cloud email protection capabilities, like Microsoft 365, in the last 12 months. 
Complete multi-channel security for email, mobile and web messaging app.
State of Phishing Report Reveals More Than 255 Million Attacks in 2022
SlashNext analyzed billions of link-based URLs, attachments, and natural language messages in email, mobile and browser channels over six months in 2022 and found more than 255 million attacks…
See SlashNext Complete™ for Email, Mobile and Browser in Action
Meet with a security expert for a demo and learn how to set up a personalized trial to see the threats entering your organization.
6701 Koll Center Parkway, Suite 250
Pleasanton CA 94566
800.930.8643
info@slashnext.com
© All Rights Reserved, SlashNext, Inc.